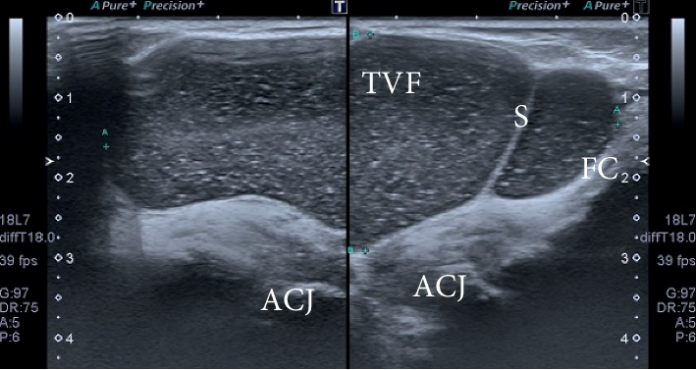 Acromioclavicular joint cyst is a rare abnormality, secondary to a chronic tear in the rotator cuff.
A fibrous capsule envelops the cyst. Similarly, the cyst is composed of thick and viscous fluid.
Moreover, the fluid erupting from the AC joint is known as "geyser sign".
This article describes a case of geyser sign with acromioclavicular (AC) joint cyst with underlying rotator cuff tear in a 91-year-old male cricket team coach. The patient presented to the emergency with complaints of right-sided shoulder and neck pain.
The patient's physical examination showed a lump on his right shoulder, above the AC joint. The lump had a year's history and continued to enlarge since then. However, he did not complain of any pain. The lump was painless, firm, non-mobile and non-tender. He complained of difficulty raising his right arm with restricted shoulder movement. Similarly, he was also unable to lie down on his right side because of the pain. His medical history was unremarkable and did not reveal fever, weight loss or any other symptoms. Neither did he have any previous surgeries of the affected shoulder.
Ultrasound examination revealed a cystic lesion.
The ultrasound revealed that the lump was a cystic lesion located above the AC joint, measuring 8.0 × 4.5 × 2.1 cm. The findings were further suggestive of a full thickness chronic ST tear, associated with degenerative changes, also. Real time ultrasound examination further showed synovial fluid escaping from the rotator cuff, decompressing superiorly through the AC joint and across the subacromial bursa (geyser sign). In addition, the long head of the biceptal groove appearing hypoechoic was suggestive of element tendenopathy.
Doctors performed an MRI to confirm the diagnosis of acromioclavicular joint cyst . MRI showed a full-thickness tear in the posterior part of the ST. The lesion was cystic with peripheral enhancement.
References
Sonographic Presentation of the Geyser Sign https://www.ncbi.nlm.nih.gov/pmc/articles/PMC6875333/