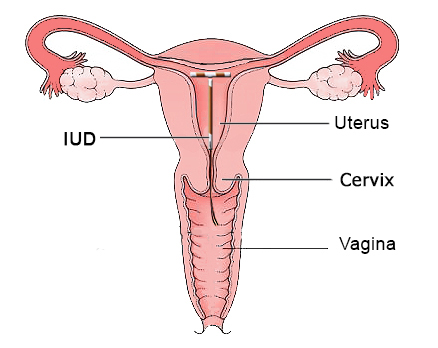 A 26-year-old mother wanted to remove her IUCD but examination did not reveal the thread of the ultrasound. A case of a misplaced intrauterine contraceptive device.
A 26-year-old, mother of one child, presented to a local clinic for removal of the intrauterine contraceptive device (IUCD). The clinic where she presented had limited obstetric ultrasound service. On vaginal speculum examination, the examiner could not see the thread of the intrauterine device, therefore, they had to refer her to a family planning service unit with management for a lost IUCD thread.
In the family clinic, they evaluated her for any signs and symptoms that may suggest an abnormal health condition. The patient was in a perfect state of health and had no complaints.
Obstetrical history revealed that the patient gave birth to a child via spontaneous normal vaginal delivery around 7 years back. During the postpartum period, i.e., 42 days after delivery, she got an IUCD.
Thereafter, the patient had no complaints. There was no history of any medical, surgical, or menstrual abnormalities. Moreover, there wasn't a history of IUCD expulsion.
In the clinic, with the patient's verbal consent, a speculum examination was performed which revealed a normal vaginal wall and normal cervix. Bimanual examination revealed an anteverted uterus. The uterus was of normal non-pregnant size. However, the examination did not reveal the IUCD thread. Therefore, she underwent an ultrasonography scan which showed a centrally located copper-T IUCD in the endometrial cavity.
After dilatating the cervix, the doctors removed the IUCD successfully.
The patient remained under observation for the next 2 hours. Since, she had no complications, the doctors discharged her.
Although it is rare for the IUD to move, there are certain factors that increase the risk. These include strong uterine contractions, IUD insertion immediately after the delivery, age less than 20 years, small uterus, etc.
Usually, patients with misplaced IUCD remain asymptomatic. In such patients, the diagnosis is established once the thread of the IUD is not visible on the vaginal examination. The complications that a misplaced IUD can cause include bleeding, abdominal pain/cramps, uterine perforation, bowel injury, and vaginal discharge.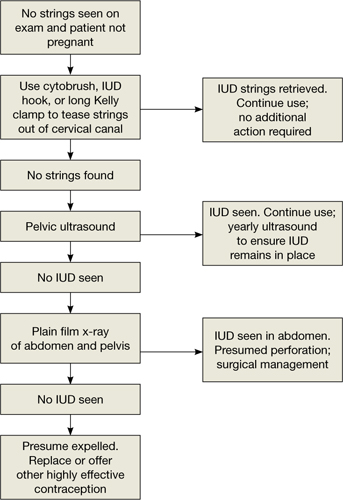 If examination fails to reveal the IUCD thread, the next step is to perform an ultrasound. Additionally, if the thread is not visible on the ultrasound, the next step is to perform an abdominopelvic X-ray. If doctors suspect a perforation, then the patient needs surgical management.
Source: Research Square, Removal of a Missing Intrauterine Contraceptive Device After Location Through an Ultrasound: A Case Report Within a Rural Setting and Review of Literature, 10.21203/rs.3.rs-42835/v1