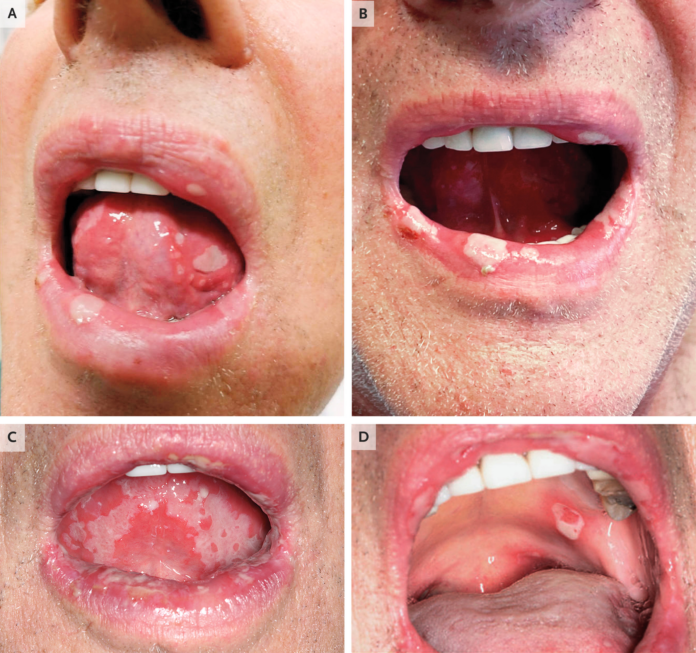 Leukemia, painful mouth ulcers and weight loss
This article describes the case of a 68-year-old patient who presented with painful mouth ulcers and neck pain. The patient was well until 6 weeks before his current presentation. Physical examination showed reduced range of motion of the neck because of pain with flexion, extension and rotation, However, there were no signs of spinal tenderness. Other findings included small ulcers on the lower lip and gingivae. Doctors prescribed the patient cyclobenzaprine and acyclovir.
Five weeks before the current presentation, the patient was evaluated by his primary care physician. He had a similar complaint of neck pain on the right side and oral ulcers that persisted with the development of several new ulcers. There were no symptoms of diarrhoea, abdominal pain, genital lesions, dysuria, joint pain, swelling, eye pain or rash. Examination showed several large ulcers on the lips and tongue. He was continued on treatment with acyclovir. Doctors further advised a direct immunofluorescence assay of the oral ulcer. Test results were negative for herpes simplex virus (HSV) types 1 and 2 and for varicella–zoster virus. In addition, the patient was also negative human immunodeficiency virus (HIV) types 1 and 2 and for syphilis.
He was referred to the dermatology clinic for further evaluation
The patient's mouth ulcers and pain worsened before his appointment at the dermatologist. A few weeks before, he had also presented to the emergency department with erythema and watering of the left eye and skin lesions on the trunk and upper face. Examination showed multiple ulcers on the lips and tongue and two pink papules with hemorrhage on the right temple. Other findings showed scattered pustules on his lower back and right flank. Opthlamologic evaluation was consistent with pinguecula, an alteration of normal tissue which results in deposit of protein and fat in the conjuctiva.
He was further evaluated in rheumatology
Histopathological evaluation of the specimen showed lymphohistiocytic, neutrophils and eosinophils infiltration. Based on these findings the patient was diagnosed with of Behçet's disease. Another outpatient follow-up at the rheumatology clinic was also arranged. However, 3 days after being discharged from the rheumatology clinic, the patient reported that his ulcers had not abated. He was started on treatment with prednisone and colchicine was continued.
A biopsy of the labial mucosa showed squamous mucosa and parenchymatous minor salivary glands. Similarly, mild nonspecific chronic inflammation was also evident. Skin biopsy further showed epidermal ulceration and associated folliculitis. The ulcers worsened over the next few days. He was unresponsive to oxycodone, was unable to eat and was hospitalised for pain control and further evaluation. His medical history was consistent with gastroesophageal reflux disease and had quit smoking 30 years ago.
Although the patient had no sign of leukemic cells on oral biopsy, the diagnosis of leukemia accounts for his worsening ulcers that did no respond to therapy and drastic weight loss.
Source: NEJM