4th CTO LIVE AID is a worldwide digital charity event. This online event aims to raise funds to provide healthcare relief to people who need financial assistance. This platform brings together physicians from all over the world for a unique digital learning and helping experience.
Interventional cardiologists are welcome!

In 2020, CTO was created to help fight the COVID-19 pandemic. Since then this event has become a significant contributor in digital education for interventional cardiologists. So far, with thousands of participants each year since its creation, it is the most leading digital charity event. For four years, CTO LIVE AID facilitated physicians and industry partners to strengthen their bonds around a mutual charity effort.
Ukraine-Europe Conflict Charity
In 2022, the conflict in Ukraine created an unprecedented humanitarian situation in Europe. It forced millions of people to leave their homes. Million more were vulnerable to shortages of food, energy, medicine, and care. Therefore, since 2022, CTO LIVE AID has been successfully committed to providing emergency medicine. Moreover, it provided equipment to Ukrainian Hospitals, with a charity donation of over 45,000€.  This year again, 100% of the profits of the congress will be donated to the charity "Support Hospitals in Ukraine".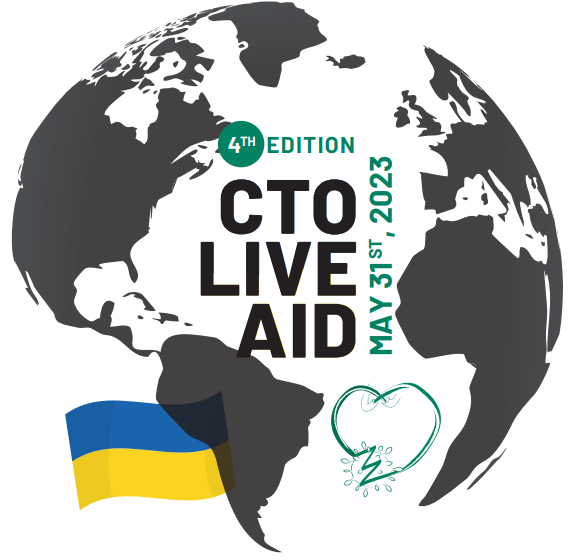 When & Where?
The 2023 edition of CTO LIVE AID will focus exclusively on CTO-PCI. The event will involve an international faculty of 16 operators and 18 expert panellists for a 15-hour world tour of live procedures. The program will virtually travel around the world from East Asia to North America, through North Africa and Europe. 6 consecutive time slots will feature 2 simultaneous live cases each commented by 3 panellists, from 8:00 am to 11:00 pm (CET), all broadcast live here! 4th CTO LIVE AID will take place on May 31st 2023. The complete broadcast will be aired in the English language for better understanding and delivery. This digital charity event expects an attendance of 1200 participants.
Fundraising Campaign
To maintain this charity event, the team is organizing a worldwide fundraising campaign with the support of Humanitas Research Hospital in Milan. This noble cause needs all medical Industry actors to support this solidarity initiative based on training, cohesion, and friendship.

This is an interactive and digital event in which operators, commentators, audience and supporting companies will not only be sharing professional experiences with educational purposes, but also raising funds on an international scale, to support a medical and humanitarian NGO, and contribute – at our humble level – to making the world a better place.