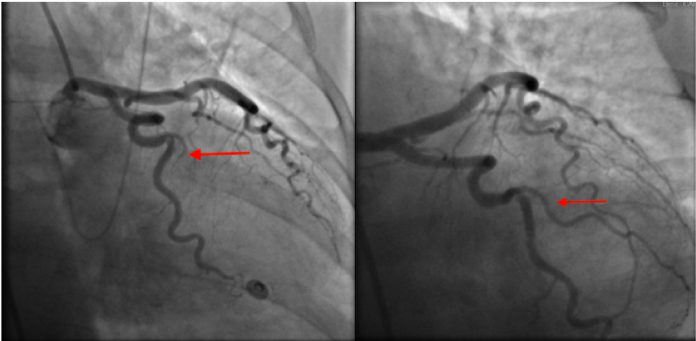 A 59-year-old woman presented with recurrent angina due to emotional stress. What can be the cause?
A 59-year-old female presented with complaints of recurrent episodes of chest pain after any emotional stress. The patient described her chest pain as being intermittent, always preceded by emotional stress. The patient was a known case of hypertension, hyperlipidemia and undifferentiated connective tissue disorder on chronic steroids.
Initially, an ECG was performed, which showed a new-onset left bundle branch block. A blood sample revealed an elevated level of high sensitivity troponin.
An urgent cardiac catheterization was performed, which revealed 100% occlusion of the first obtuse marginal branch. Percutaneous coronary intervention (PCI) was performed but remained unsuccessful.
Left ventriculogram showed:
An ejection fraction (EF) of 40%
Severe distal inferior and inferoapical hypokinesis.
The findings of the ventriculogram, i.e., the hypokinesis, could not be explained by the coronary anatomy.
A working diagnosis of concomitant Takotsubo's cardiomyopathy was made with acute myocardial infarction.
The patient was treated conservatively.
After 3 years, the patient again presented with recurrent chest pain after the death of a family member. In the emergency room, she developed ventricular fibrillation. The patient was defibrillated and successfully resuscitated.
Urgent cardiac catheterization was performed, which showed
A healed obtuse marginal branch.
Spontaneous dissection of the first diagonal branch.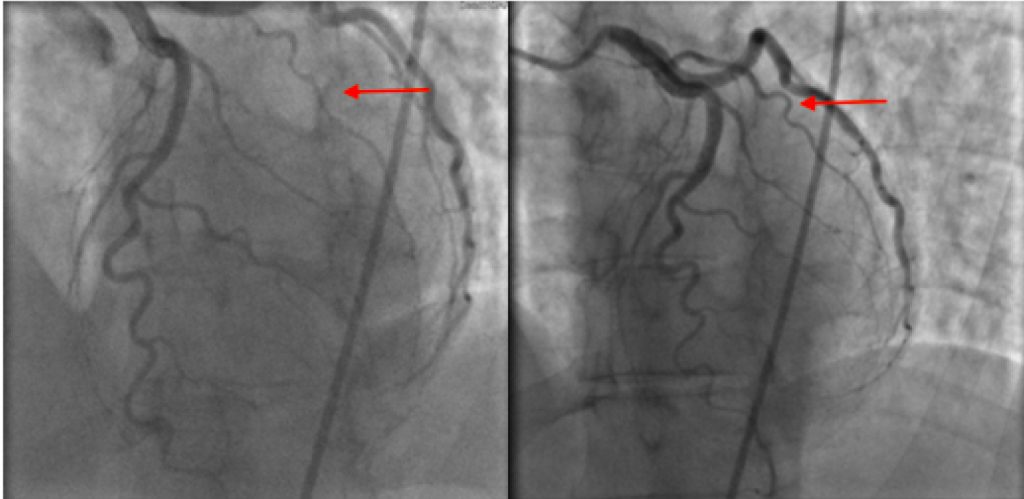 An echocardiogram was performed, which showed an ejection fraction of 35-40%.
The placement of ICD was considered for secondary prevention of sudden cardiac arrest (SCA). But the patient was treated with beta-blockers considering the acute ischemic event was within 48 hours of her arrest.
Again, after 2 years, the patient, at the age of 64 years, presented with substernal chest pain. Initial high sensitivity troponin level was 10.3, and within half an hour, the patient suffered a ventricular fibrillation arrest. Again, the patient was defibrillated and successfully resuscitated.
This time, emergent cardiac catheterization showed:
Severe diffuse narrowing of the distal left anterior descending artery (LAD).

However, as compared to the cardiac catheterization done 2 years back, the first diagonal disease had improved.
Since the patient was vitally stable and this was the third episode of spontaneous coronary artery dissection, a CT angiography of the head and abdomen was performed, leading to the diagnosis of fibromuscular dysplasia involving bilateral carotid and renal arteries.
Again within three days, the patient had another episode of spontaneous coronary artery dissection and an urgent cardiac catheterization was performed again, which showed worsened subtotal occlusion of the distal LAD with the proximal extension of the dissection.
The patient got stable and was treated conservatively. ICD was not placed as she underwent sudden cardiac arrest within 48 hours of an ischemic event.
She was discharged with an external cardioverter-defibrillator. Later an ICD placement was performed on an outpatient basis.
Spontaneous coronary artery dissection, usually seen in young, middle-aged, healthy women, is an important cause of Acute Coronary Syndrome (ACS). Some of the risk factors of SCAD include connective tissue disorders, fibromuscular dysplasia, and chronic inflammatory disorders. Emotional stress and structural diseases like Takotsubo's cardiomyopathy have been found to be associated with SCAD.
Ideally, such patients should be treated conservatively without performing PCI as the latter can lead to complications and is also associated with higher failure rates.
SCAD can have variable outcomes. A majority of the patients achieve complete resolution, while others may progress to infarction, cardiomyopathy, ventricular arrhythmias, and even sudden cardiac death.
Reference:
Weber A, Elliott J, Gopalakrishnan P (2020) Recurrent Spontaneous Coronary Artery Dissection Leading to Recurrent Sudden Cardiac Arrests: Who is at Risk?. Int J Clin Cardiol 7:197. doi.org/10.23937/2378-2951/1410197