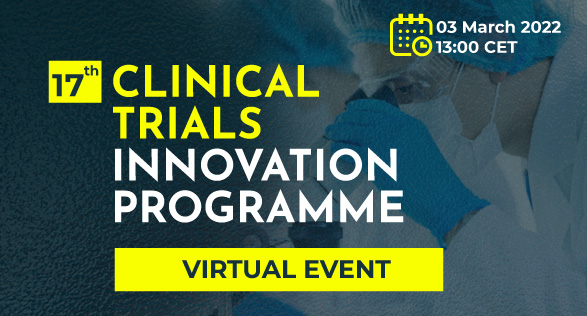 The 17th Clinical Trials Innovation Programme 2022 is the perfect platform to accelerate your drug development journey. This event aims to take you a step closer to the discovery, exploration and modification of the drug development industry. The pharmaceutical industry paces up as the global demand for modified and effective drugs increases with every passing year. This event is adamant to provide you with the best learning opportunity. Learn from the experiences of highly-experienced and most-reputable pharmaceutical experts from across the globe. 
17th Clinical Trials Innovation Programme aims to cover the future of clinical trials, patient centricity, digitalization and post-COVID-19 drug development. This virtual congress aims to attend an audience of 100 participants via Zoom on 3rd March 2022 at 13:00 CET.
Honourable Speakers and Experts
The attendees at 17th Clinical Trials Innovation Programme 2022 will be research scientists. CEOs, CSOs, VPs, Directors, Managers, Group Leaders of Clinical Operations, Clinical Trials Outsourcing are integral parts. Oncology and clinical trials, use of RWD & E, paving the way for digitalization, and patient enrollment and retention are highlights of the event. 17th Clinical Trials Innovation Programme 2022 has the privilege to host 15 speakers. They will discuss 15 topics over 6 hours of congress.
Speakers of event are Managing director and VP of operations Mr Davy Yeung, Head of Global Clinical Development & Operations Patient & Site Engagement at Boehringer Ingelheim Ms Kimberley Kallsen, Vice President of Strategy MyAviva for Patients at Veeva Systems Mr Tim Davis, Former Director of European Cancer Patient Coalition Ms Antonella Cardone, Lead Data Processing Solutions at The Janssen Pharmaceutical Companies of Johnson & Johnson Mr Giacomo Ricca, Special Adviser at Danish Medicines Agency Mr Frederik Grell Norgaard, and General Manager and Digital Measurement Solutions at Biogen Mr Thibaud Guymard.
Other speakers include Ms Gunilla Andrew Nielsen from Medical Products Agency and Global Clinical Development TA Lead Nephrology. They will be followed by Orphan Disease Area at Vifor Pharma Mr Domenico Merante, Mr Bhupathy Alagiriswamy, Senior Operation Data Manager at MorphoSys AG Ms Lydia Bartkova, Principal Data Manager at MorphoSys AG Ms Alexandra Barbarina, and VP Clinical and Regulation at GrayMatters Health Adar Shaani.
Progress of Drug Development with Clinical Trials Innovation Programme
The 17th Clinical Trials Innovation Programme is a purposeful virtual event designed to demonstrate the progress and prediction in the drug development journey. The participation of the pharmaceutical industry achieves credit for revolutionising clinical trials for many decades. In the upcoming post-COVID-19 era, the global pharmaceutical industry looks forward to world-changing parameters.