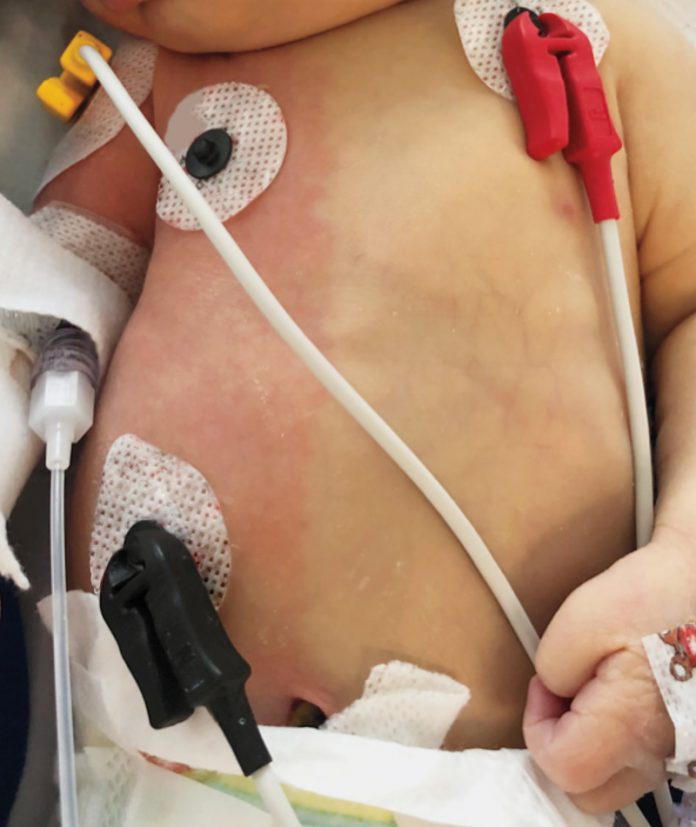 A male neonate born after an uncomplicated pregnancy and delivery, presented with respiratory distress with low oxygen saturation and unilateral erythema immediately after birth.
The neonate was diagnosed with Ebstein's anomaly. He underwent intubation and began receiving ifusions of prostaglandin E1 and dobutamine for his respiratory distress and low oxygen saturation.
Electrocardiography of the neonate revealed pulmonary atresia, severe tricuspid dysplasia and right atrial dilation. Computed tomography scan showed bronchial obstruction and pulmonary hypoplasia because of cardiomegaly.
Three days after birth, a clearly demarcated erythema developed on one side of the neonates body.
Physical examination during this time was otherwise unremarkable and there were no changes in vital signs. The findings were consistent with the diagnosis of harlequin colour change. The erythema developed on the right side of the infant's body and resolved spontaneously.
Harlequin colour change
Harlequin colour change generally occurs two to five days after birth. It is a benign and transient feature that is observed in neonates after administration of anaesthetic agents and alprostadil. The colour change can also develop in otherwise healthy neonates in the absence of medications. It can occur as a result of changes in vascular tone, however, the phenomenon still remains unclear.
There is no treatment necessary for harlequin colour change. In this case, the unilateral erythema resolved spontaneously after lasting several minutes.
References
van den Berg, G., & Bakker, H. (2020). Harlequin Color Change in a Neonate. New England Journal of Medicine, 382(5), 456-456.